I discovered an interest in vintage film cameras in 2018, a point in my photography career where I was already about 10 years deep. It all started when I worked for a tech startup in Toronto that built tech for photographers. A lot of my coworkers at the time were interested in photography and many of them shot with film cameras. 
This sparked an innate curiosity in me to learn more about vintage cameras and purchase one of my very own.
But it didn't exactly start there…
If you don't want to read the personal story, skip ahead using this table of contents:
Origin Story
They say every hero has an origin story. I might be no hero, but I often think about my origin story as a photographer, and what brought me here 14 years later. 
It was the early 90s, and I was l living in Romania with my family. I had a very typical childhood with many fond memories. Going on vacations to the Carpathian mountains, or the Black Sea, playing sports, spending summers at the cottage, etc. Taking family pictures was a common memory in my childhood. 
Pictures that either my father or grandfather would take on an old Russian SLR that my grandfather purchased on a trip to Russia during the communist era. We would then develop the photographs ourselves in a makeshift darkroom that was built in the laundry room.
I was always fascinated by the process of developing pictures, but guess what? 
I ABSOLUTELY hated being in pictures and thought I hated photography. I thought it was so stupid. 
I would do anything I could to avoid being in pictures, and if my parents would somehow convince me to be in a picture I would act out and make a silly face just to ruin the pictures. Mind you I was probably around 6-7 years old at the time. 
The years passed on and I never thought about photography again. When we moved to Canada we did not have that old vintage film SLR camera, and we honestly didn't take many family pictures anymore. Maybe the occasional disposable camera was used once a year. 
Fast forward to high school. In grade 10, by chance I decided to take some sort of media studies class, I forget the name of it. In this class, we developed media across many different mediums. We learned to make flash videos, stop motion videos, photo manipulations, etc. 
My favourite project in that class was making a stop-motion movie, something that involved taking a heck of a lot of photos, something that I used to hate. But in that process, I developed a passion for filmmaking.
In fact, this wasn't the first time I had made short films. Using a webcam and Windows Moviemaker, I had been making short films at home for quite a while at that point.
Throughout high school and university, I developed my passion and interest in filmmaking. From making short films with friends and family to being a founding member of our university's broad-casting networking MacTV, I had done a lot by that point. 
It was around 2008 and wanting to upgrade my old JVC camcorder to an HD video camera, I decided to purchase the Canon T1i for its dual capabilities of taking pictures and HD video. From that point on, the rest is history… as I began to be less and less involved in filmmaking, it was replaced by a newfound passion for photography.
That's when I became a Toronto-based photographer and built a reputation in the city for my urban night photography. 
What are Vintage Cameras?
Depending on who you ask, for an item to be considered vintage, it would need to be at least 20 years old. In this case, vintage cameras are any old cameras developed in 2002 and prior. 
Where to Buy or Sell Vintage Cameras
Whether you're looking to buy or sell a vintage camera, some of your best options are online marketplaces such as eBay, Amazon or Etsy. A second best would be an offline marketplace such as Craigslist, or Kijiji in Canada.
Of course, with offline marketplaces, you have to be more careful, and always bring a friend, but the advantage with these kinds of options to buy or sell a vintage camera is that you at least get to inspect your purchases, and vice versa if you are selling.
There are also a lot of photography retailers that sell used vintage camera gear, and are popular options for many photographers. Websites such as KEH, B&H Photo Video and Adorama are a great place to start your search.
Also don't forget to support your local businesses. I've personally bought a lot of my vintage gear from local camera stores that deal in vintage, so make sure to search up for the closest one to you in your city.
Buying Tips for Vintage Cameras
Without a doubt, whether you're buying online or offline there are a few things that you should check for on the camera listing or inspect in person before you commit to a purchase.
For starters when buying online on a marketplace such as eBay, only ever consider vintage cameras that are listed as tested. In my experience sellers are usually very transparent about the quality of the camera.
Specific items you would want to check off your list for working functionality are:
Light meter

Shutter

Film advance

Viewfinder

Light seals

Controls

Batteries (if applicable, bring a set with you to test)

Lens functionality & optical quality (no scratches, fungus, yellowing, etc)
Best Vintage Cameras
So let's consider what makes a vintage camera best? And what categories of vintage cameras are there?
The best of something is often subjective, and with cameras, there are a lot of variables, such as the lenses you are using, the film stock and the skill of the photographer. Objectively picking out the best vintage film cameras is tough. But there are a good number of things we can asses to choose some of the best vintage cameras.
We can assess their prices and availability, their lens selections, ease of use, features and general uniqueness in their final product. The last one is especially subjective.
Next, what are the different types of vintage cameras that we will look at?
Vintage 35mm SLR film cameras

Vintage rangefinder film cameras

Vintage point-and-shoot film cameras

Vintage medium format film cameras

Vintage instant film cameras
For this article we will also look at the cameras which are beginner friendly and some aspirational most expensive vintage film cameras that we can all drool over owning one day. 
Choosing the right type of camera for you is dependent on what you want to achieve with your photography. Let's look at some pros and cons to help you decide what is right for you. 
Comparison of SLRs and rangefinder film cameras:
SLR (35mm or medium format) cameras:
Rangefinder cameras:
Pros

Many options for complete control over the image

Parts for repairs are easy to find

High-quality images

Manual controls

Interchangeable lenses

Built to last

Retro look

Built with choice materials

Quality images

Removes possibility of shaky photos from shutter shock

Wider field of view

No shutter blackout

Cons

Can be expensive

Large size; not compact

Loud shutter

Can product blurry results from shutter shock at low shutter speeds

Expensive

Large size; not compact

Hard to find used options

Harder to get precise framing
Best Vintage 35mm SLR Film Cameras
Nikon F2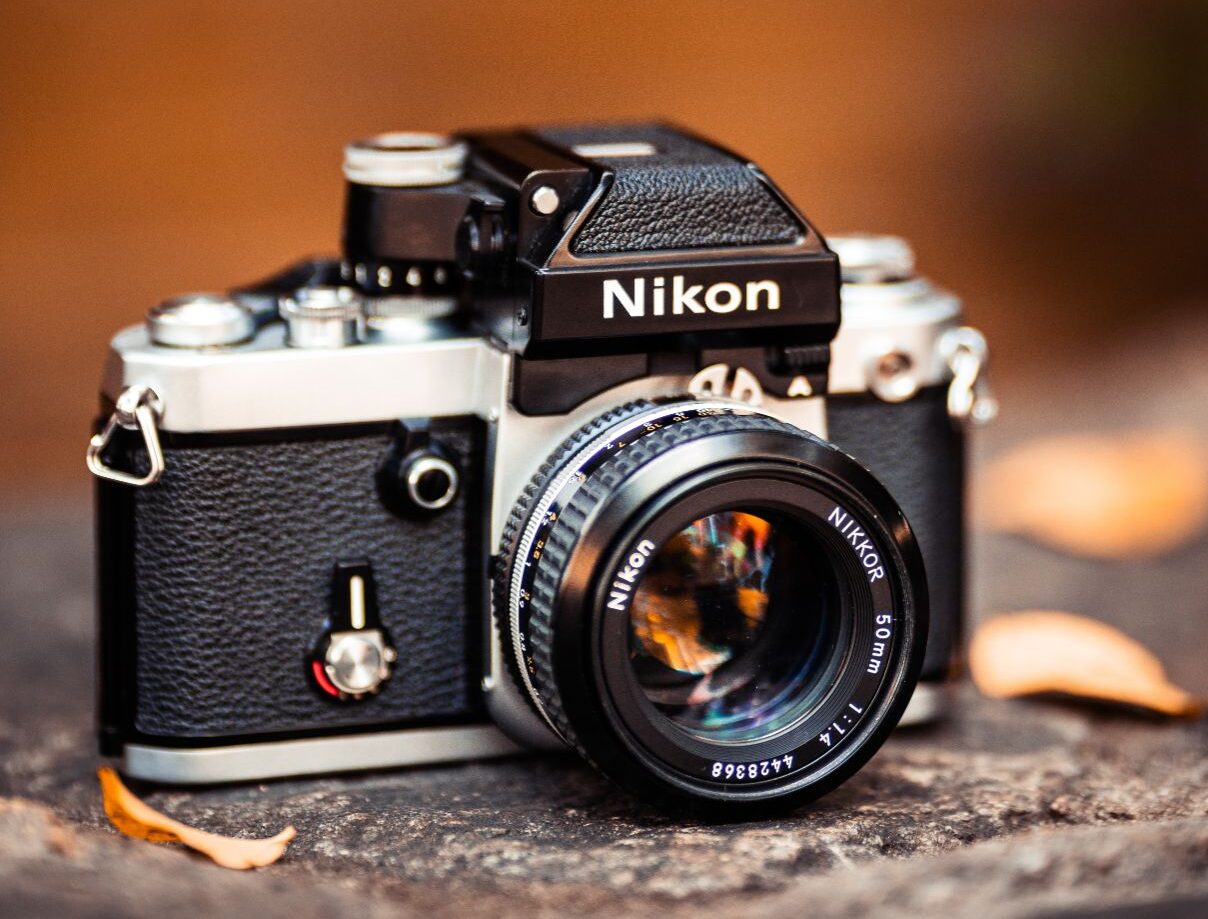 During the 70s, the Nikon F2 was considered by many to be one of the best professional 35mm SLRs. The Nikon F2 was the predecessor to the Nikon F, which many years prior dethroned Leica from being the top brand for professional photographers. It was particularly popular with photojournalists and magazine photographers. 
What made the F2 so great and excel over the Leica's was its all-mechanical build. This helped the Nikons handle faster, be more reliable, and offer more accurate TTL metering and far more accurate focus and framing than the Leica rangefinders.  
The F2 system includes all sorts of interchangeable finders, focus screens, 250-exposure backs and motor drives.
You can pick up one of these great vintage film 35mm SLR cameras for around $200. This is a bargain when compared it to purchasing to a Leica camera with a famed Leica R lens. 
Canon F-1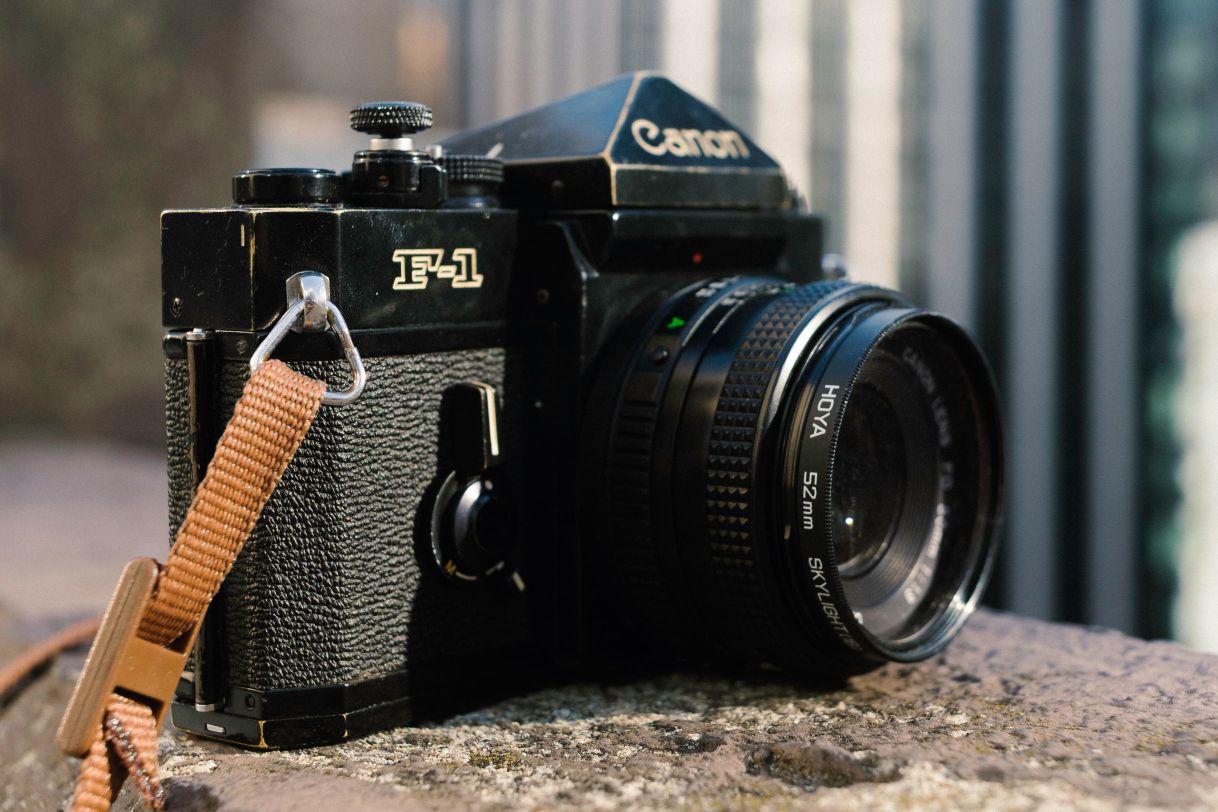 Developed to compete with the Nikon F series cameras, the Canon F-1 was Canon's flagship camera for professionals. This camera is fully mechanical with the exception of the integrated light meters. It even features a self-timer and depth-of-field preview lever which makes this otherwise barebones camera great to use. 
Not only that, but being a modular camera, the F-1 has a great selection of accessories to modify how you use the camera. Some of the best accessories to get are the various viewfinders available for this system, my favorite being the waist-level viewfinder. 
As we've come to expect from modern Canon cameras, the control layout on the Canon F-1 is intuitive. 
Sporting the FD lens mount, there is a great selection of lenses to use with this camera, and no matter the lens pairing you choose, you are sure to capture some truly spectacular photographs.
You can pick up one of these cameras for around $400 USD with a lens. 
Olympus OM-1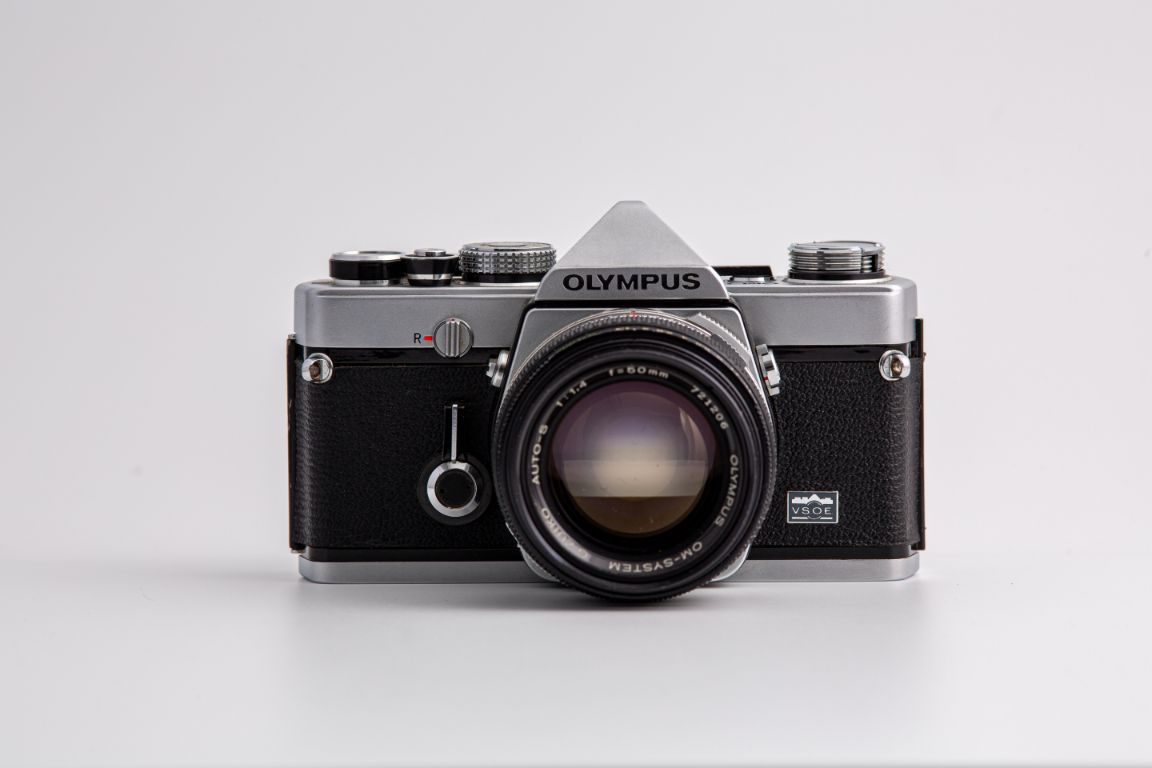 This cult classic was the world's smallest and lightest 35mm film SLR camera, which is made perfect for travel and street photography. 
The OM-1 has a light meter which improves the ease of use of this camera, making this camera very friendly to beginners. Otherwise, the camera is fairly basic, with a simple design featuring only a film advance lever, the shutter release, the frame counter, and an ISO dial. 
Other features you might come to expect from other cameras such as an exposure compensation dial, double exposure button, and even the shutter speed dial are missing.
The OM-mount found on this camera has a lot of lens support with the native Zuiko lenses, and third-party lenses developed by manufacturers like Vivitar, Kiron, Sigma, Tamron, and Tokina.
For around $250-300 USD, this vintage 35mm film camera should be a serious contender in your arsenal of cameras. 
Best Vintage 35mm Rangefinder Film Cameras
Contax G1/G2 
The Contax G series rangefinder cameras were highly regarded in their time, and seen as a more modern version of the classic Leica rangefinders. It was a premium camera at the time that came with many great features such as autofocus. 
Other automatic features which increased the ease of use of this camera were the automatic film advance and rewind functions and TTL light and flash metering to help you nail your exposures.
In fact, the Contax G series camera was praised for its auto-focusing ability at that time, especially on the Contax G2 camera, which improved upon the G1s autofocus abilities. 
The G series used Carl Zeiss G-mount lenses which made this combination of camera and lens a match made in heaven. You can pick up a Contax G1 with a lens for around $600-800, with the G2 costing considerably more at around $2,000 with a lens. 
Best Vintage 35mm Point-and-Shoot Film Cameras
Yashica T4
Point-and-shoot film cameras are not much different from rangefinders, but where you could say they differ is rangefinders have interchangeable lenses, while what would be considered a point-and-shoot does not. The Yashica T4 is such a camera. 
Often known as the quintessential old 35mm film camera it resurged in popularity when film photography came back into style. This was due to its ability to create a certain desirable vintage aesthetic which is associated with a certain type of photography (think trendy overexposed fashion portraits.) 
The Yashica T4 was never known to be a leader in its category, as it only featured middle of the road kind of camera specs. What has made it stand out, and stand the test of time was the lens that the camera came equipped with; the Carl Zeiss T* 35mm f/3.5 Tessar. 
Due to its popularity, the prices for these old cameras have risen drastically in the last few years, but at this time you can pick one of these cameras up for around $500. 
Best Vintage Medium Format Film Cameras
Pentax 6×7 67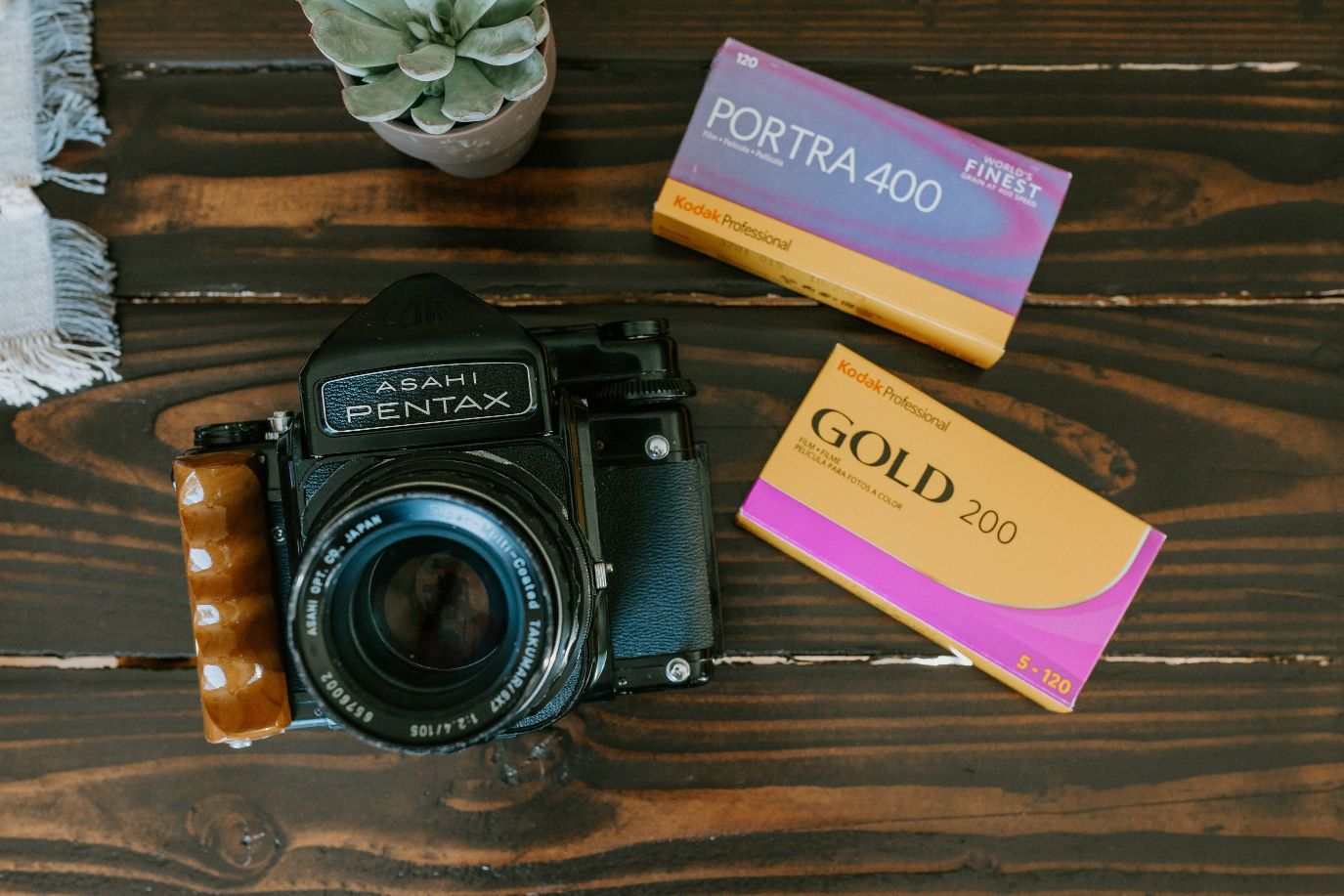 The Pentax 6×7 67 was one of the first medium format cameras that caught my attention when initially started learning more about film cameras in 2018. Not only was I drawn to the images created with this camera that I saw other photographers create on YouTube, but also its physical appearance with its very bizarre attachable side handle. 
With a very attractive price point between $400-600 USD, owning a medium format camera at this price point is almost a no-brainer. What helps this camera excel is also the lineup of amazing lenses available for this system. A prime example is the Super Takumar 105mm F2.4 lens which produces dream-like portraits with the smoothest background blur bokeh you've seen. It's like the background has melted away. 
While the functionality of this camera is pretty standard, it has other add-ons outside of the grip handle. By default, the camera comes equipt with an eye-level viewfinder, something that most cameras have. The Pentax 6×7 67 has the ability to swap out the viewfinders, and change the eye-level viewfinder for a chimney waist-level finder. 
Hasselblad 500 C/M 6×6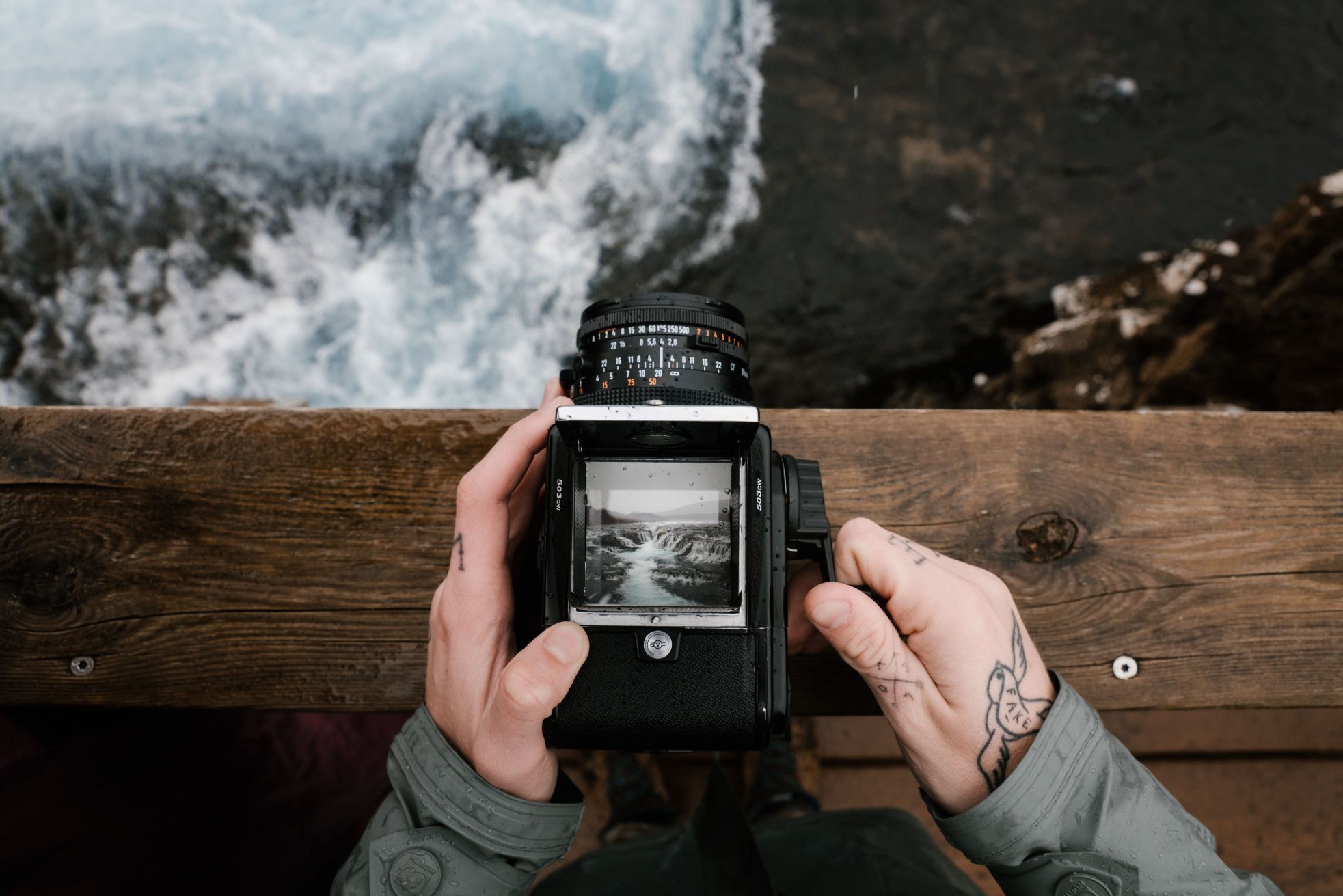 I'm sure you'll all heard of the legendary Hasselblad brand, just maybe have never used one of their cameras. Well here's your chance at owning a piece of that legend, as the next medium format vintage film camera on the list, is actually affordable. Not all Hasselblad cameras are this affordable, as the legendary brand has seen a lot of growth and other film cameras in their lineup are worth a lot. 
Shooting with the Hasselblad 500 C/M will require some getting used to. Unlike most cameras, most of the camera controls are actually found in the lens. So both the aperture and the shutter speed are adjusted directly on the lens barrel. 
The Hasselblad camera system is also very modular, even more than the Pentax 6×7 67. Almost everything on the camera is interchangeable. You can swap between a waist-level viewfinder to a prism eye-level viewfinder or even swap out your film halfway through a shoot with the modular film backs. 
The camera is very minimalist in design and functionality. There are no extra bells and whistles like a meter system and it does not use batteries. 
Fuji GX680
The Fuji GX860 is one of those old cameras you've probably not heard of before. The sheer size and weight of this camera make it impractical for field use and should be used inside a studio where it is used on a sturdy tripod. The best way to describe this camera is a medium format camera had a baby with a large format camera and that child is going to make it to the NBA.
Now let's talk about what makes this camera exceptionally special and a great consideration for purchase. The camera features a bellows system that makes all of your lenses tilt-shift lenses. The flexibility of that feature is the icing on the cake of a truly wonderful camera that already took phenomenal images. 
Best Vintage Instant Film Cameras
Polaroid SX-70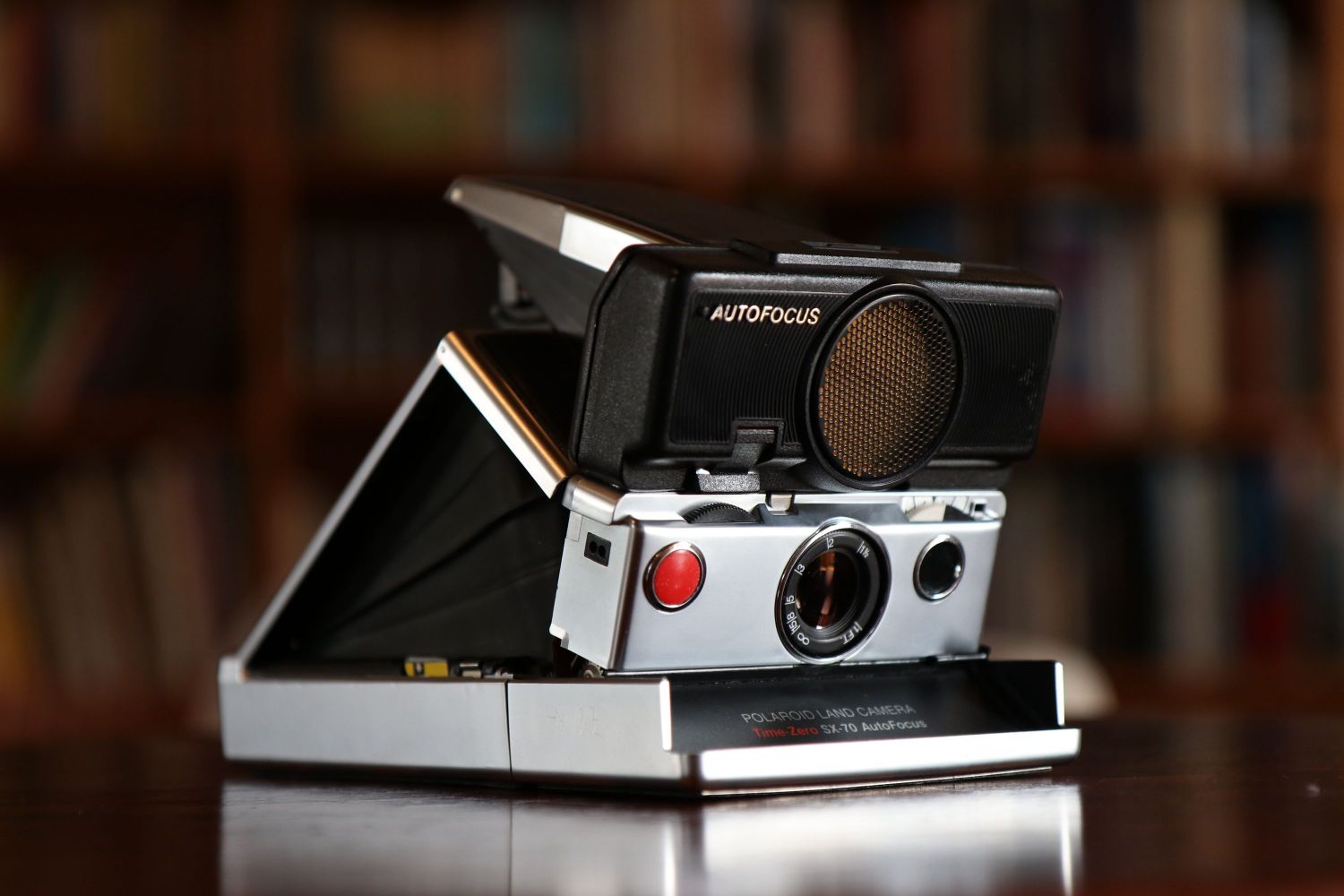 The honors go to the world's first-ever vintage instant SLR camera, the Polaroid SX-70. Unlike the previous generations of instant cameras, the SX-70 revolutionized how instant film worked with these cameras. Older vintage Polaroid cameras required precise timing, and the positives and negatives had to be manually separated. The prints would take several minutes to dry.
The SX-70 innovated with a self-contained film that required no action to be taken by the user, as the image would automatically eject and develop. Exactly how modern instant cameras work nowadays.  
The Polaroid SX-70 had a lot of interesting add-ons available you could purchase to enhance the usability of the camera:
Polaroid SX-70 Film: Color 

Polaroid SX-70 Film: B+W

SX-70 Flashbar

SX-70 Self-Timer

SX-70 Film Shield

Polaroid Safety Box

Polaroid Scan Adapter
While a vintage SX-70 camera might not cost you a small fortune, buying Polaroid film can be expensive for this camera. A single shot could cost you anywhere between $2.50 to over $3! If you buy the original film for this camera, while expired, is even more expensive and can cost you anywhere between $3 to $12 a shot.
Best Vintage Film Cameras for Beginners
Canon AE-1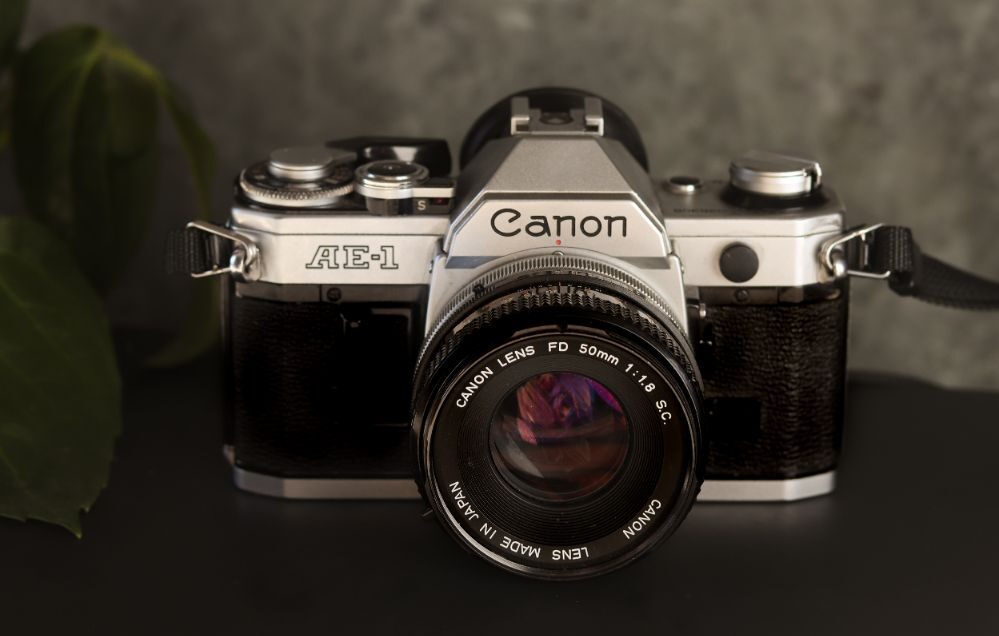 One of the best and most popular starter vintage cameras for new film photographers is the Canon AE-1. When film photography surged back into popularity, this camera was wildly used as a starting point because it was widely available, which made it very inexpensive. 
Using the Canon FD mount, the Canon AE-1 has an impressive lineup of compatible lenses. With countless great Canon vintage lenses to choose from at affordable prices, this camera was a great solution for photographers wanting to try film without a heavy monetary investment.  
Its ease of use also makes this a great vintage camera for beginners. The camera's basic functionalities can operate without batteries; and the only controls you need to worry about are the shutter speed, aperture and focus. The AE-1 also has more advanced features such as TTL metering with shutter speed-priority AE or TTL stopped-down match needle manual metering.
This advanced feature like TTL metering was only available in higher-end SLR cameras at the time of the camera's release in 1976. The advances in technology to produce these features more cheaply revolutionized the ease of use in the consumer market. 
Pentax K1000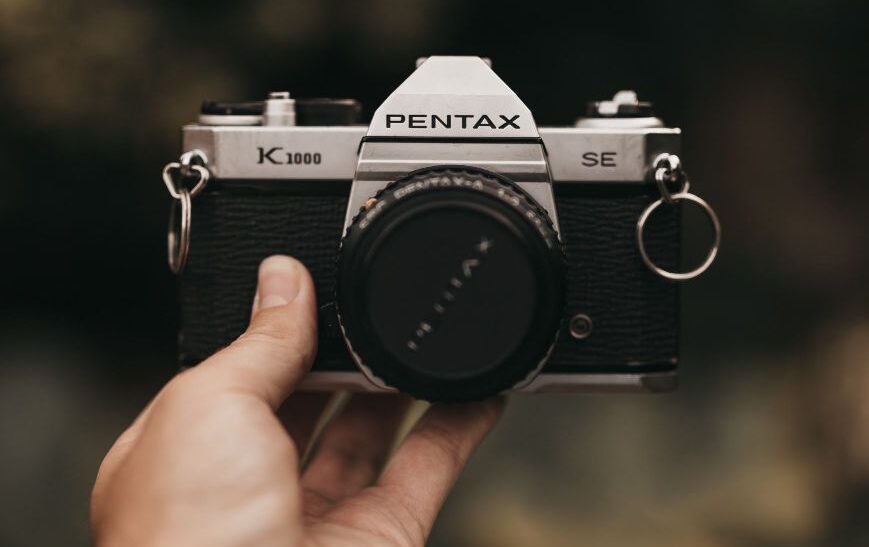 Similar to the Canon AE-1 the Pentax K1000 35mm SLR film camera is widely available and at a similar price range. With over 3 million units sold during its 20 years of production, the popularity of this camera has carried through the years with beginner film photographers. 
Its ease of use makes it beginner-friendly with its minimal features. The all-manual operation includes the ability to control the shutter speed and aperture. It also comes equipt with a TTL metering feature for added ease of use to help with exposing your photographs. 
The Pentax K1000 used the PK-mount which had unreal adoption when it came to lenses. Not only can you adapt other lens mounts to PK-mount, almost every lens manufacturer created versions of their lenses on this mount.
Most Expensive Vintage Cameras
Now come to the most expensive vintage cameras that are actually worth owning. The juiciest part of this article.
The most expensive vintage camera to date is a camera we will never own, or aspire to own. This was a Leica camera from the 1900s sold at auction for 15 million dollars.
Hasselblad 203FE 
Priced anywhere between $3,000 – $8,000 depending if it is with or without a lens. The Hasselblad 203FE is significantly more expensive than its entry-level siblings in the 500 series — and also 40 years newer. The camera has a tough sold construction something people have come to expect of the Hasselblad brand.
While the camera is significantly newer than the older generations of Hasselblads, you are able to use any Hasselblad lens dating back to 1957, and all the old accessories work from the get-go. 
Unlike older leaf-shutter Hasselblads of the past, which have a top speed of 1/500th of a second, the 203FE maxes out at a blazing 1/2000 sec shutter speed. This makes the 203FE a suitable camera for sports, live action, and nature, especially when using really long telephoto lenses. 
The camera excels in many areas, such as its really well-designed TTL/OTF flash capability. The exposure of the camera with the correct flash unit is extremely accurate, something that can't be said about all OTF flash setups.
Fuji GX617 Panoramic 
The Fuji GX617 should almost be in its own category, one with strange and interesting cameras. This vintage film camera produced panoramic pictures. Its 6x17cm panoramic images come at a high cost, as you can effectively only take four images per roll of 120mm film.
Costing between $4,000 – $6,000, this vintage camera is by no means cheap. The system is also limited by the lens selection, as you must use one of the four interchangeable lenses available for this system:
EBC FUJINON SWD 90mm f5.6-f/45

EBC FUJINON SW 105mm f/8-f/45

EBC FUJINON W 180mm f/6.7-f/45

EBC FUJINON T 300mm f/8-f/45
These focal lengths translate to an equivalent focal length of 20mm, 26mm, 46mm and ~74mm on 35mm film. To own a set of these lenses you'll be looking at spending at least another $2,000 – $2,500. 
Should You Buy a Vintage Film Camera?
I can't tell you if you should or shouldn't buy a vintage film camera, but I can suggest three reasons why you might want to consider it. 
It will help you become a more well-rounded photographer. Many vintage cameras don't have a lot of fancy features such as auto-focus, exposure metering, and other modern features we've come to enjoy. The experience of using a barebone fully analog manual film camera will humble you. You will become more aware of your settings to set the right exposure, more precise with your focus, and most important it will force you to be more thoughtful and intentional with your framing so you don't just waste rolls of film on poor photos you'd otherwise have the luxury to take with a digital camera. 

Film cameras are great to help dig you out of a creative rut. There's nothing better than trying something completely different and moving away from what you're used to doing by shooting with a film camera. Be adventurous, and try new things. It will bring a new appreciation and love for your craft if you've never shot on film. 

Shooting film will add versatility to your portfolio and you might be exposed to new opportunities you might have not had the chance to work on